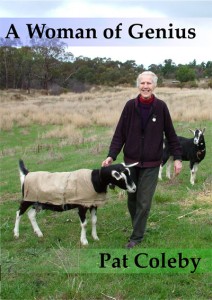 After a long association with Pat Coleby, Farming Secrets were very fortunate to be invited to Pat's farm to film. This unique Video opens with a rare look at Pat talking about her life. It includes an interview with Pat around her kitchen table and follows with shots of Pat addressing a group of farmers. The Video concludes with Pat talking about her various books.
Pat Coleby is Australia's foremost authority on farming and caring for animals without chemicals. Despite all the misconceptions that utilising the chemical method of farming is more cost-effective than using the natural method, Pat Colevy shows us the honest–to–God truths about methods that really work.
In the video program "A woman of genius", Pat Coleby discusses the different vitamins and minerals such as seaweed and vitamin C that she has used throughout her life. She elaborates on the different mixtures that she has applied to suppress diseases such as cancer and respiratory problems as well as numerous other animal diseases.
Pat Coleby has travelled extensively throughout the country as a lecturer and farm management consultant. Today, most of her work is conducted at her home office where she regularly receives calls from around the world.
Throughout this video, Pat Coleby will tell you the reasons why she decided to take the natural approach to farm and caring for her animals.
She will explain to you what remedies she integrated into her rituals which made an enormous difference to the production and the health of her farm and stock. This video does not only educating as an autobiography of Pat Coleby's life but also as a guide to the first start integrating the natural method into your daily life.

"A Woman of Genius", is an exploratory video that takes you behind the scenes into the life of one of Australia's leading authorities on natural care for farms and animals.
In this video, you will hear Pat speak of the major influences that have shaped her amazing life.
You will see her meeting with farmers and detailing the basic steps essential to follow natural farming methods.